Vortex Aquagym™
Seating

4

Dimensions

3.98 x 2.31 x 1.2m

Jets

Up to 59
Why choose the Aquagym™?
Boasting a full range of swim spa features, the Aquagym™ is Vortex™ Spa's most compact 1.3 m deep swim spa model. Enjoy all the benefits of a swim spa without giving up the space required for a pool. The clever layout of the Aquagym™ allows hydrotherapy seating for up to three adults for a relaxing hydro massage. The Aquagym™ is the perfect choice to enjoy the best of both worlds. A spacious swim spa plus a relaxing hydrotherapy massage gives you double the health and well-being benefits.
Aquagym seat layout
Seats 3 adults in the most compact Vortex swim spa available.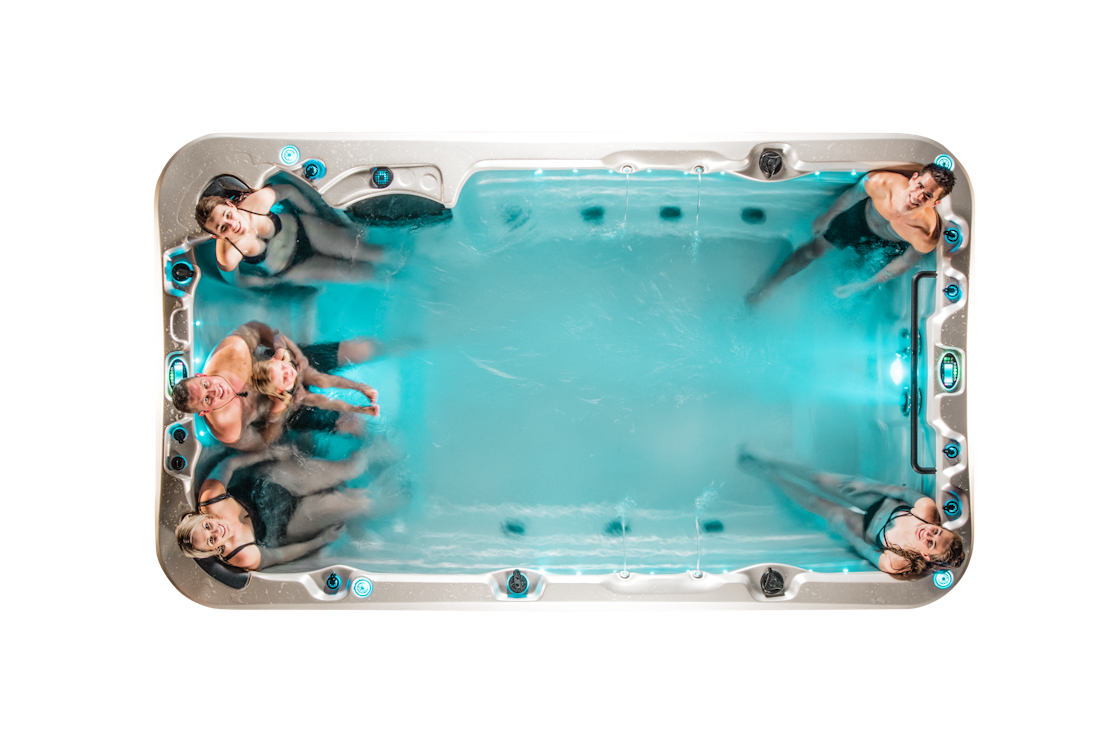 Seating for up to 3 adults
The Aquagym comfortably seats three adults. The seating arrangements in the Aquagym include a back massage seat, a neck and shoulder therapy seat and a cool down seat that provides a welcome and refreshing space during your hydrotherapy sessions. While the corners at the swim end also offer standing back massages to speed recovery from intense training sessions.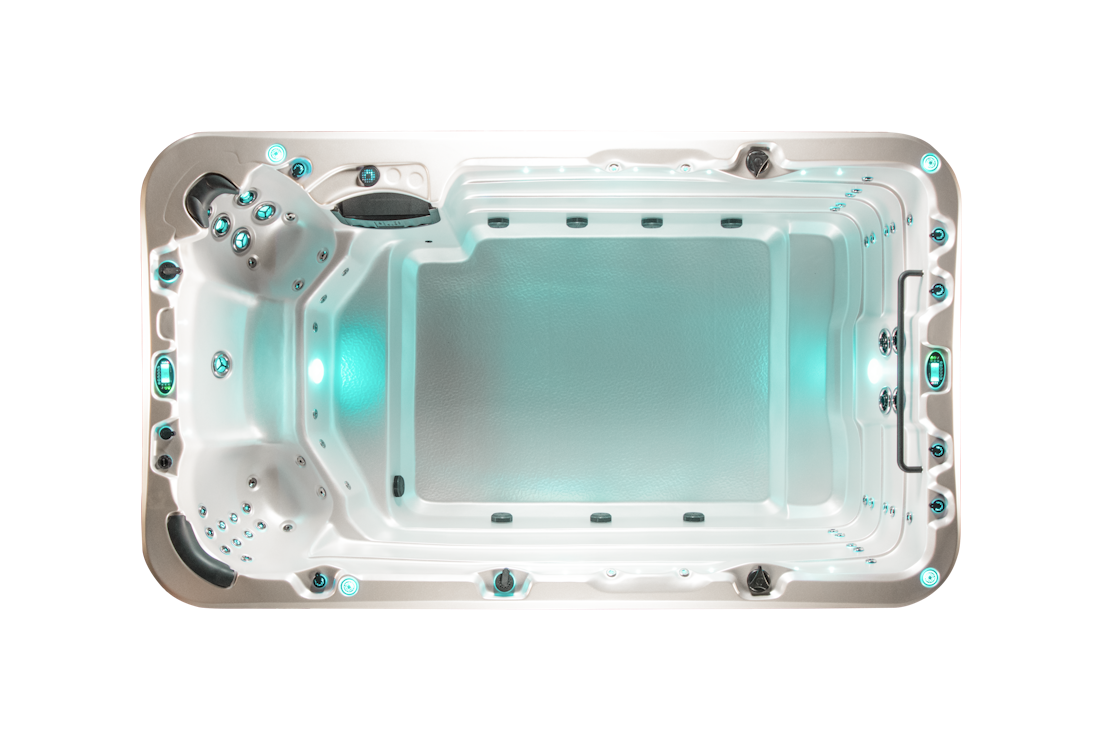 Our most compact swim spa, perfect when space is limited.
The Aquagym is our most compact swim spa. Measuring only 3.98 by 2.3 metres it is the perfect solution for those who want a fully featured swim spa but have limited space.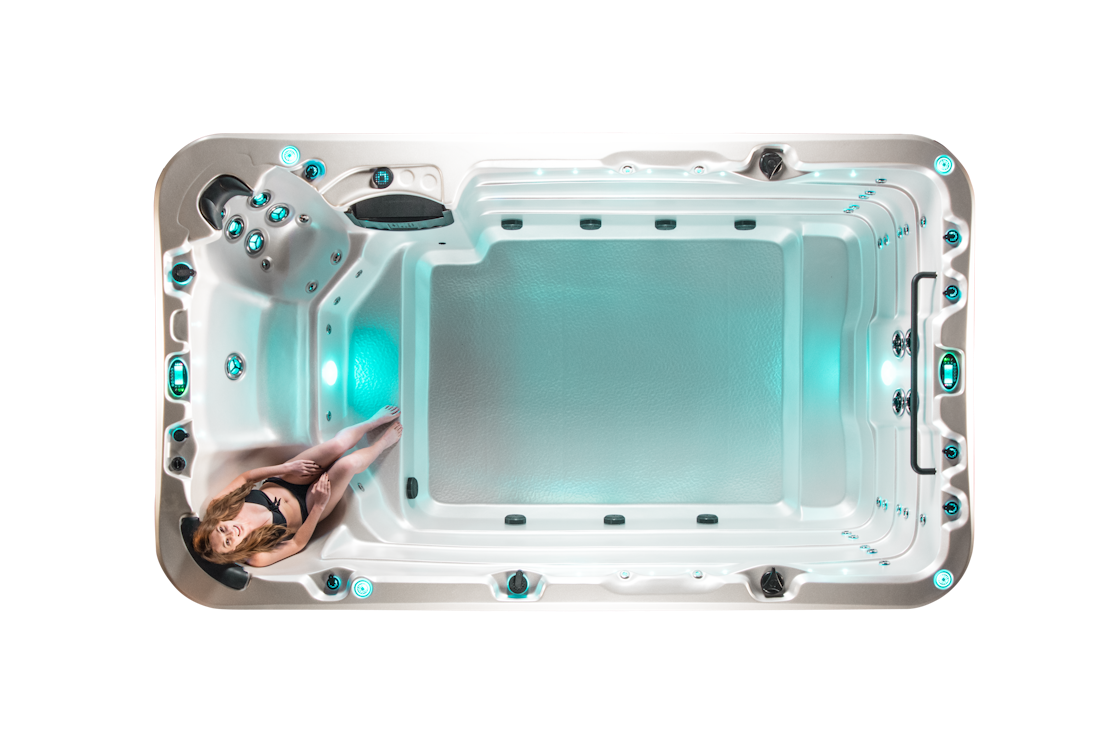 1 back massage seat.
Whether it's lower, middle or upper back the back massage seat in the Aquagym is designed to reach the entire area. At one time or another, most of us experience discomfort or a tight back, this is where the Aquagym excels and allows you to just sit back and relax. Proving this swim spa is not just for exercise.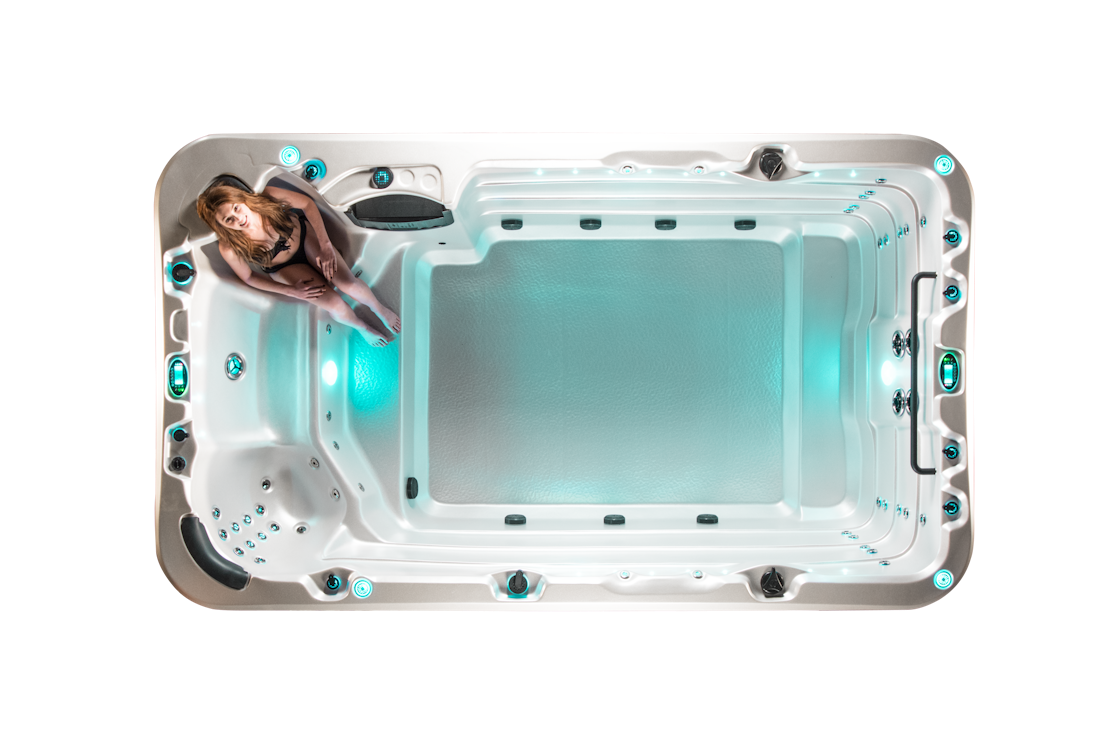 1 shoulder and neck therapy seat.
If you feel stress and tension in your shoulders, you'll love the shoulder and neck therapy seat in the Aquagym. Four massaging jets are embedded within the therapy collar, combine this with the seat jets and you have a sublime hydrotherapy massage that focuses on your problem area. Perfection.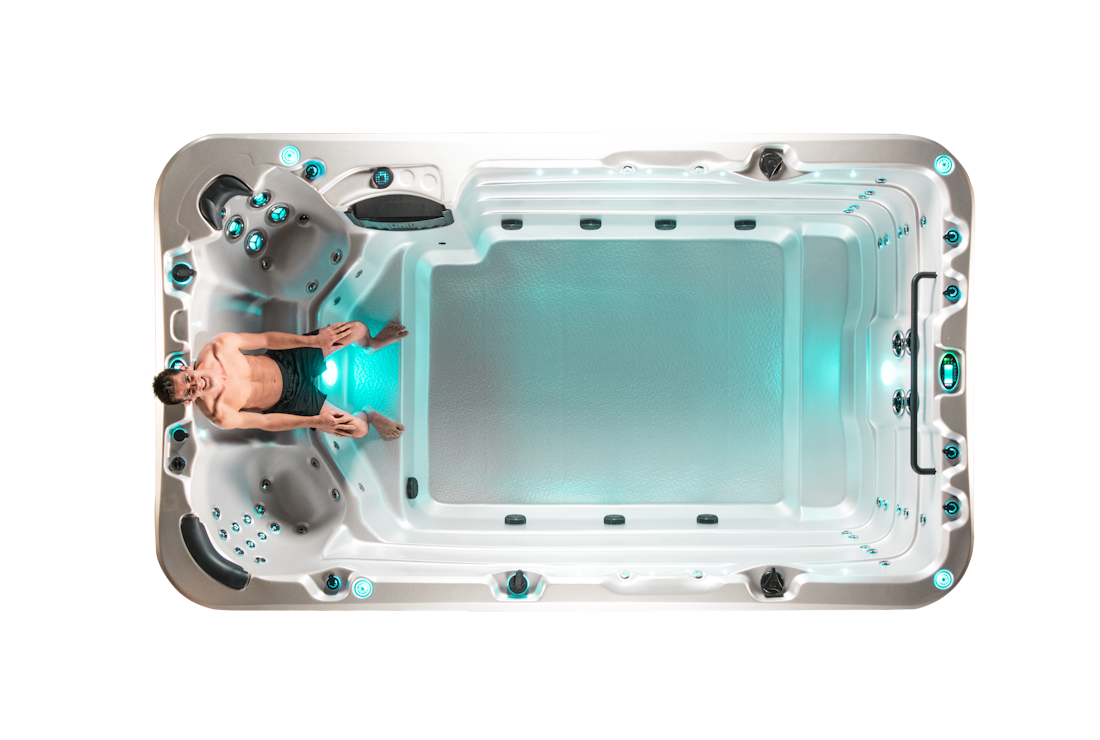 1 cool down seat.
The Aquagym has a cool down seat, it sits higher than the other seats and helps keep your body temperature nice and consistent during a full hydrotherapy session. The cool down seat is also suitable for families with young children, so any 2 - 5 year olds can enjoy the spa without having to sit on an adults lap.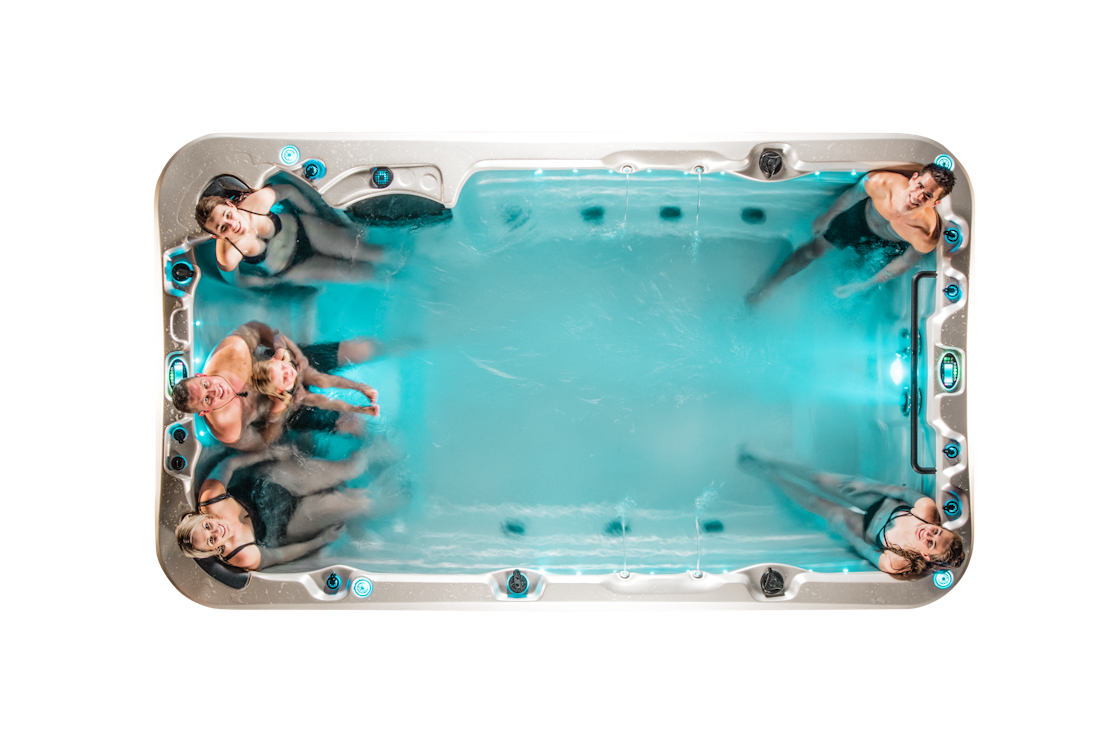 2 standing / corner back massage zones.
We realise that the 2 back massage corners are NOT seats as such. But, they both offer relaxing hydrotherapy sessions for before, after, or even during your serious and strenuous workouts. Back massage corners are available on the Aquagym Extreme model.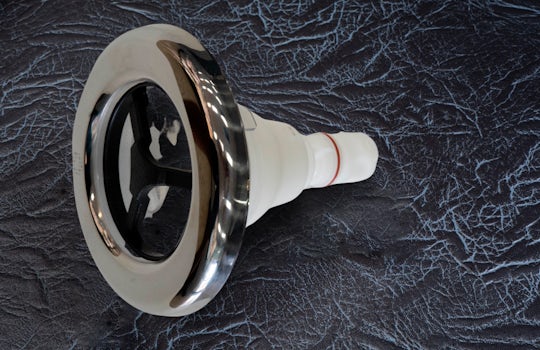 Hydroflow™ stainless steel jets (Avanté)
Hydroflow™ Stainless Steel jets use the famous Vortex™ jet design which provides a premium massage.
Hydroglow™ backlit jets and topside controls (Avanté)
Chromotherapy uses colours to create an environment focused on health and harmony. Hydroglow™ backlit jets and topside control lighting provide an adjustable and variable Chromotherapy experience.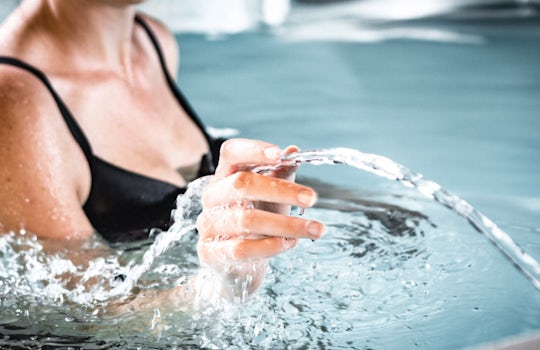 Purezone™ automatic water care system
This system makes safe, clean and clear water easy and affordable. It includes two high-efficiency, pleated filters plus one Purezone™ Micron filter that removes particles down to five microns, a Purezone™ Ozone generator for advanced water clarification and the Purezone™ UV-C steriliser (Avanté) for removing water borne microbes.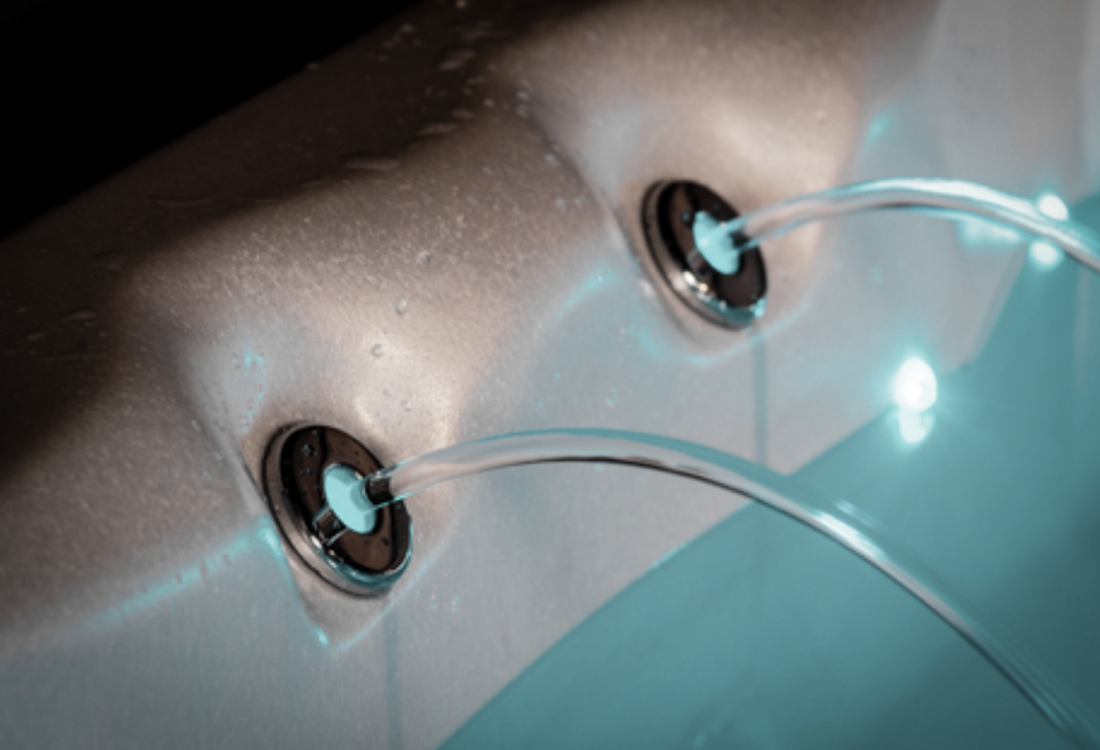 Hydroglow™ backlit laminar jets (Avanté)
Laminar jets create perfect streams of backlit water giving a gentle visual display. The jets operate independently of the hydrotherapy jets, so they can be turn your spa into an impressive light display in your backyard.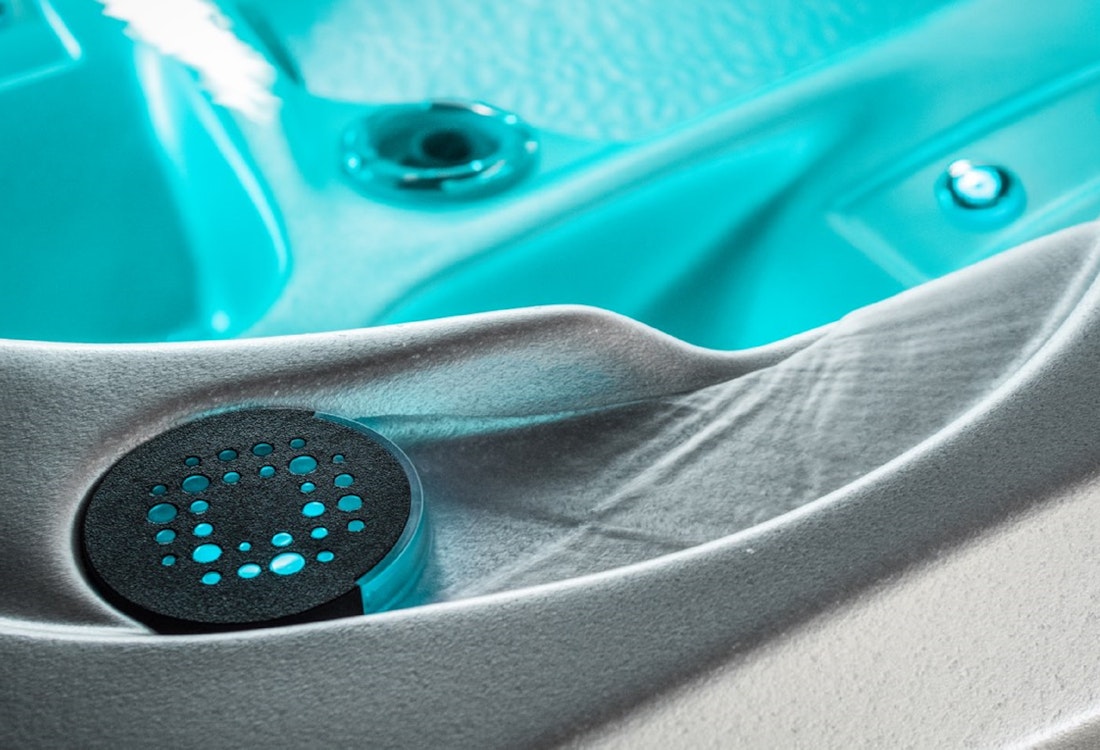 Tranquil water feature
There is nothing more relaxing than the sound of running water. Add a touch of light and you have created the perfect sanctuary to be rested and mindful.
Beverage chiller
The designers at Vortex™ thought of everything and gave a nod to entertaining by including a built in bottle cooler.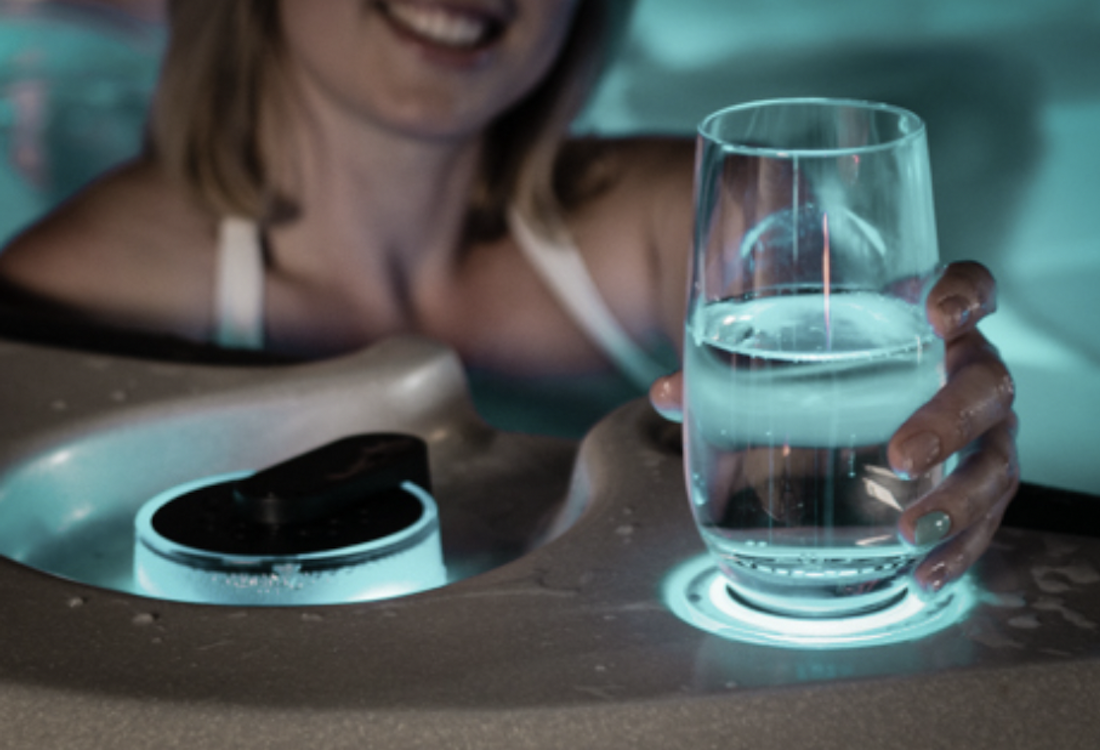 Hydroglow™ illuminated drink holders (Avanté)
It's important to stay hydrated while in your spa. Our backlite coasters illuminate your drink and help reduce accidental spills. Included in Avante upgrade.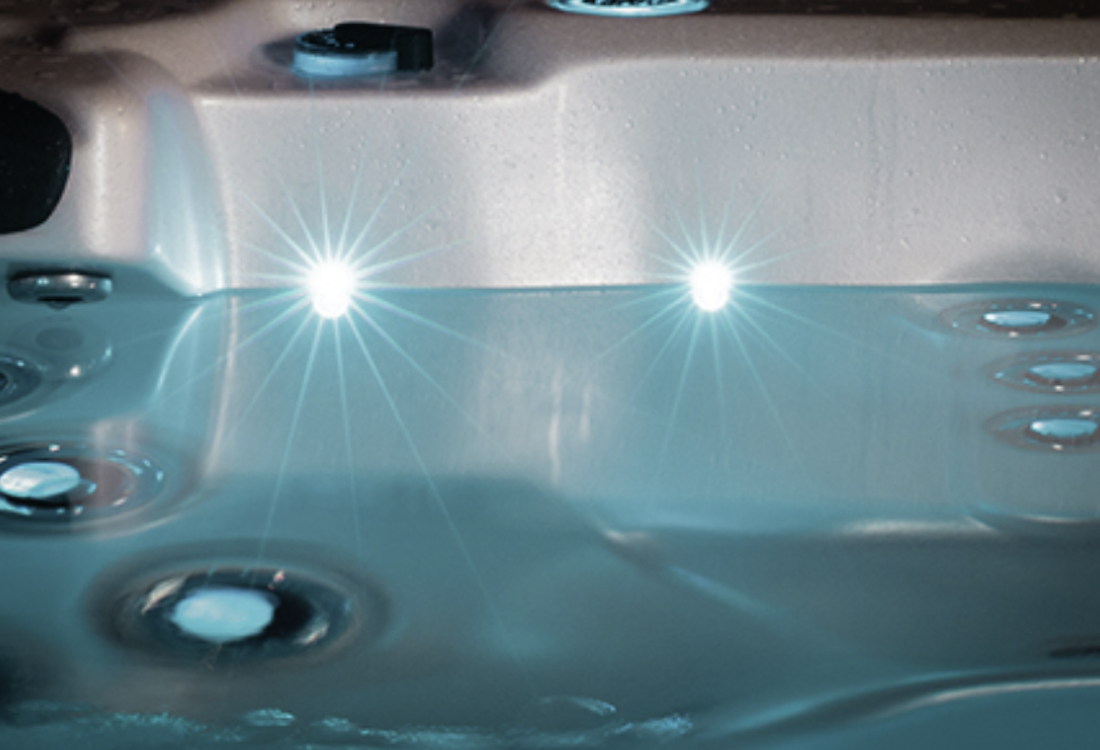 Hydroglow™ perimeter and cabinet lighting (Avanté)
The additional lighting to the water edge and functional outside lighting are included with the perimeter and cabinet lighting package. All lighting is customisable to suit your mood.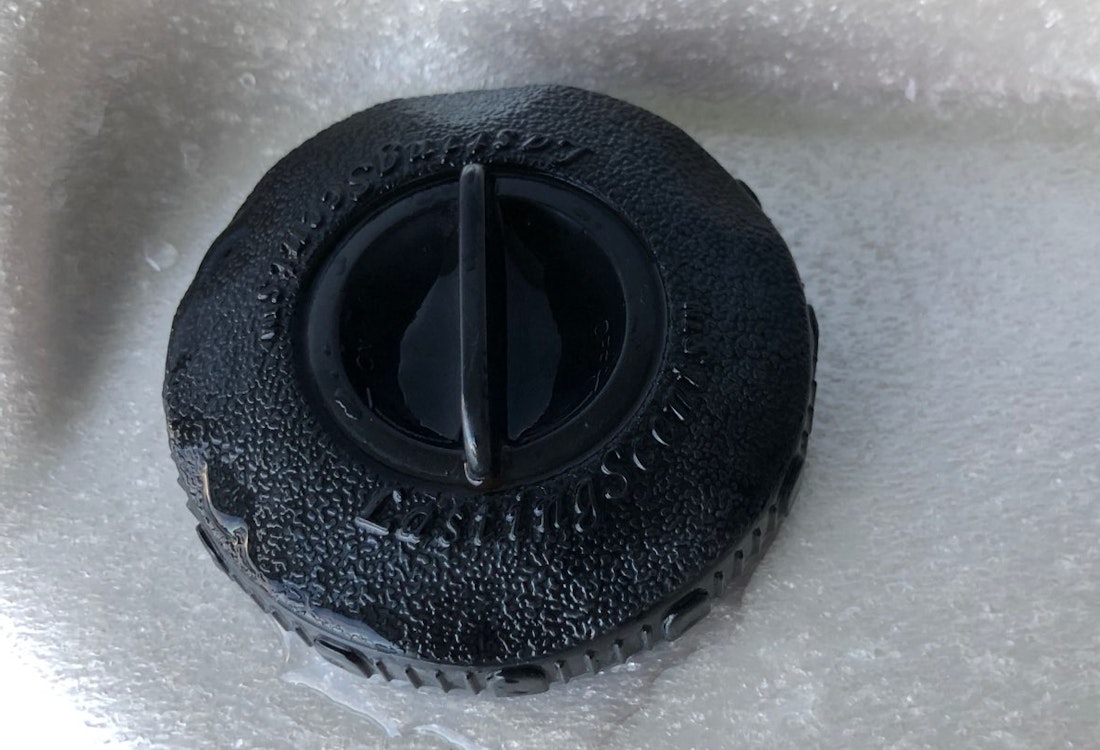 Automatic aromatherapy dispenser (Avanté)
Aromatherapy is a holistic treatment that uses natural plant extracts to promote health and well-being and enhance both physical and emotional health. The adjustable Vortex™ Aromatherapy system automatically injects Aromatherapy scent into the spa water.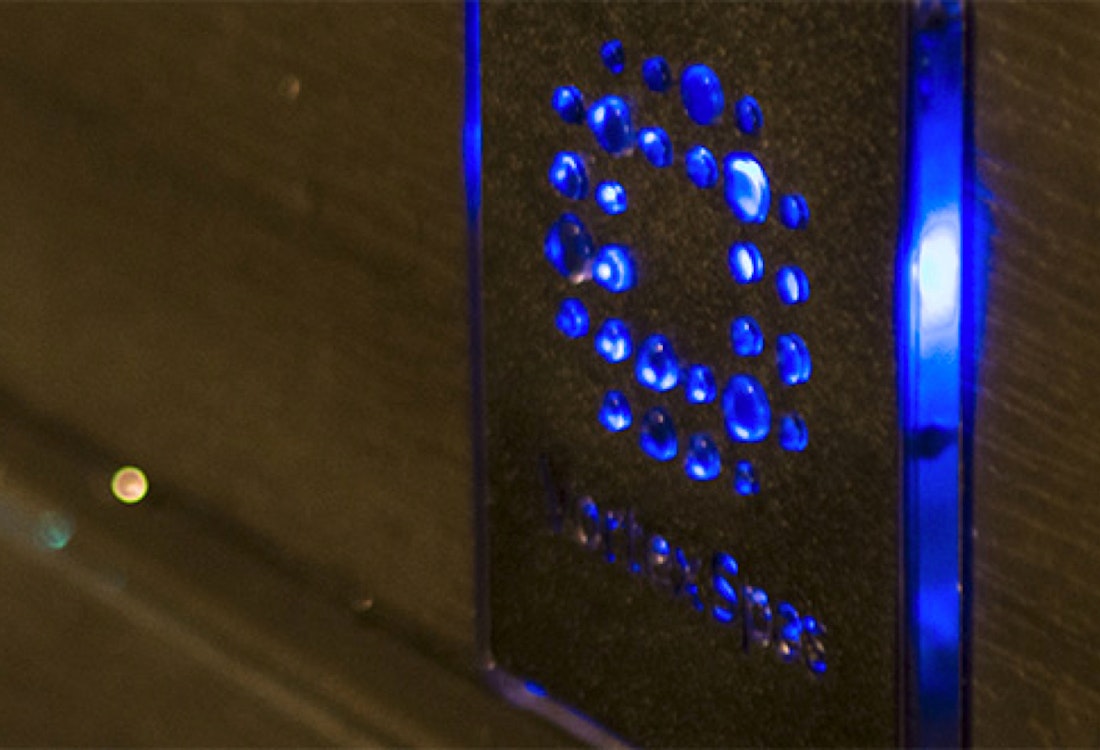 Spa health indicator light
The Vortex™ Spa health indicator light is designed to communicate the spa's condition to spa user without having to lift the cover. The indicator lights up blue to show it is at the correct temperature, red to indicate a water temperature fluctuation over 5°C, or a fault.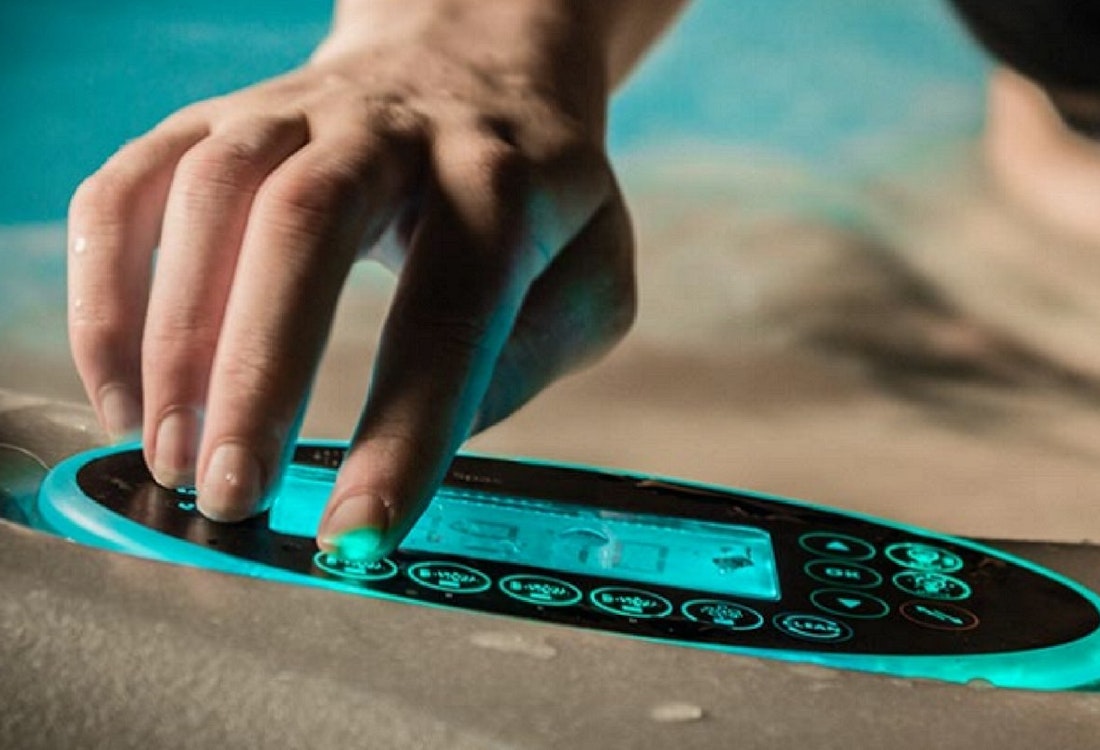 Premium SpaNet™ controller
The SpaNet SV Series controller is designed to maximise energy savings and deliver the lowest possible daily operating cost for your spa using PowerSmart™ technology like Dynamic Thermal Tuning and SmartFiltration™.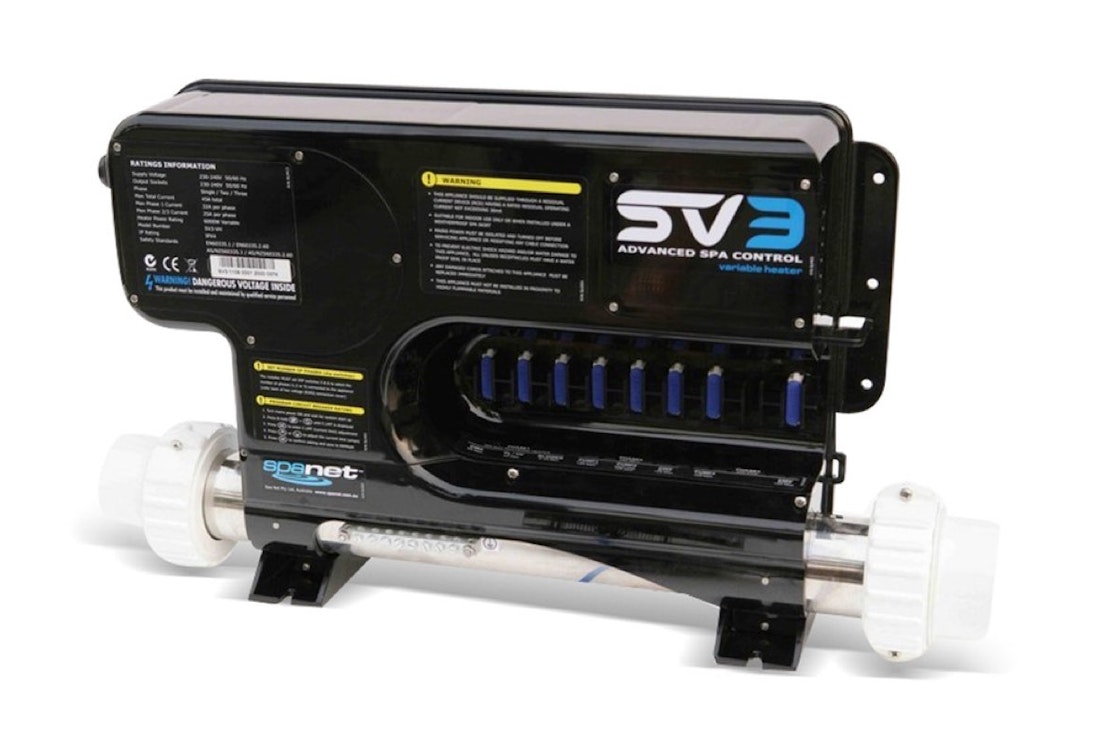 SpaNet™ variable output heater
The SpaNet™ SV Series has a variable output heater. Unlike most controllers, this means when the spa's jet pump is turned on, the heater turns DOWN rather than OFF. This has the benefit of maintaining the spa's temperature while you are using it, rather than cooling it down.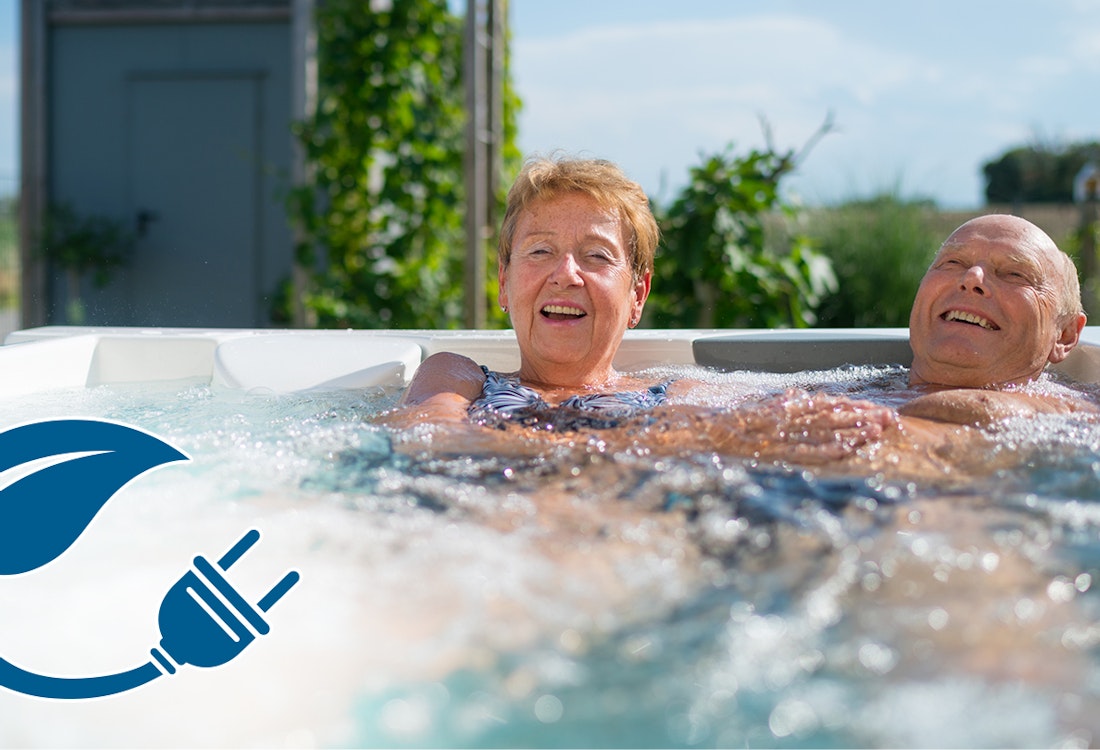 SpaNet™ integrated heat pump interface (Optional)
If you want to save up to 75% on your spa heating cost, you can choose the optional SpaNet™ Hybrid Heat Pump. This integrated system is plug and play with the SV controller.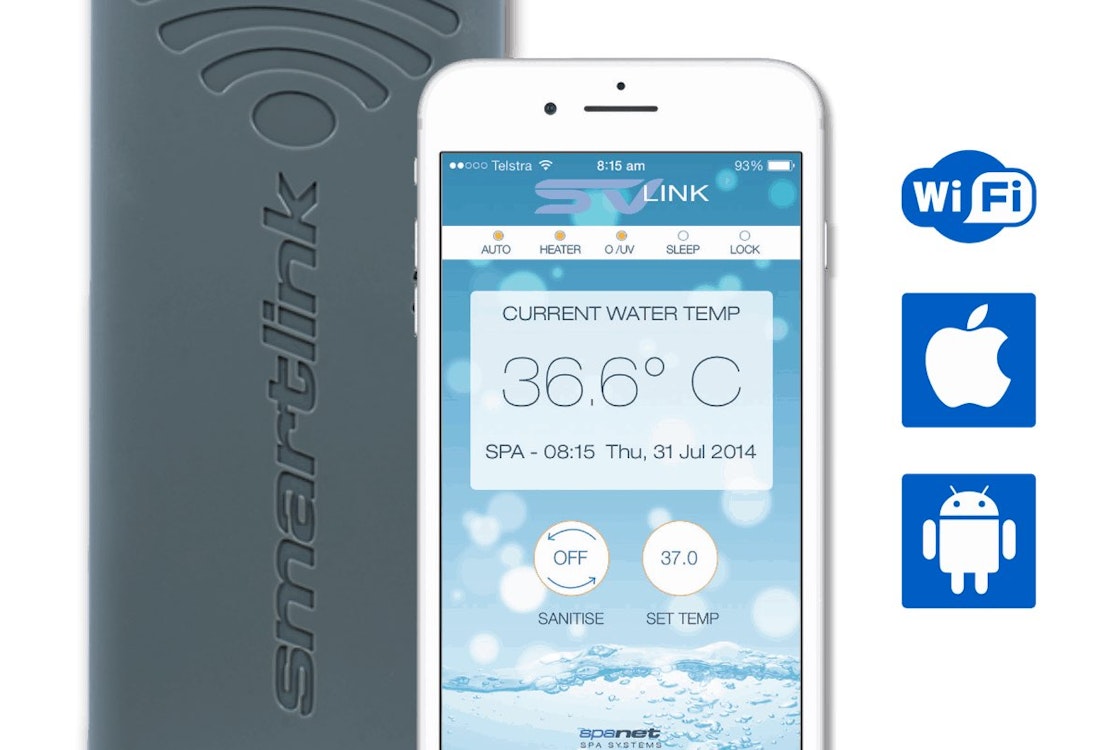 SV SmartLINK™ WiFi module (Optional)
Control and monitor your spa remotely from anywhere in the world! With the optional SpaNet™ SmartLINK™ WiFi/bluetooth control unit, just download the SpaLINK™ phone app (Android or Apple) and you can control all your spa functions simply and remotely.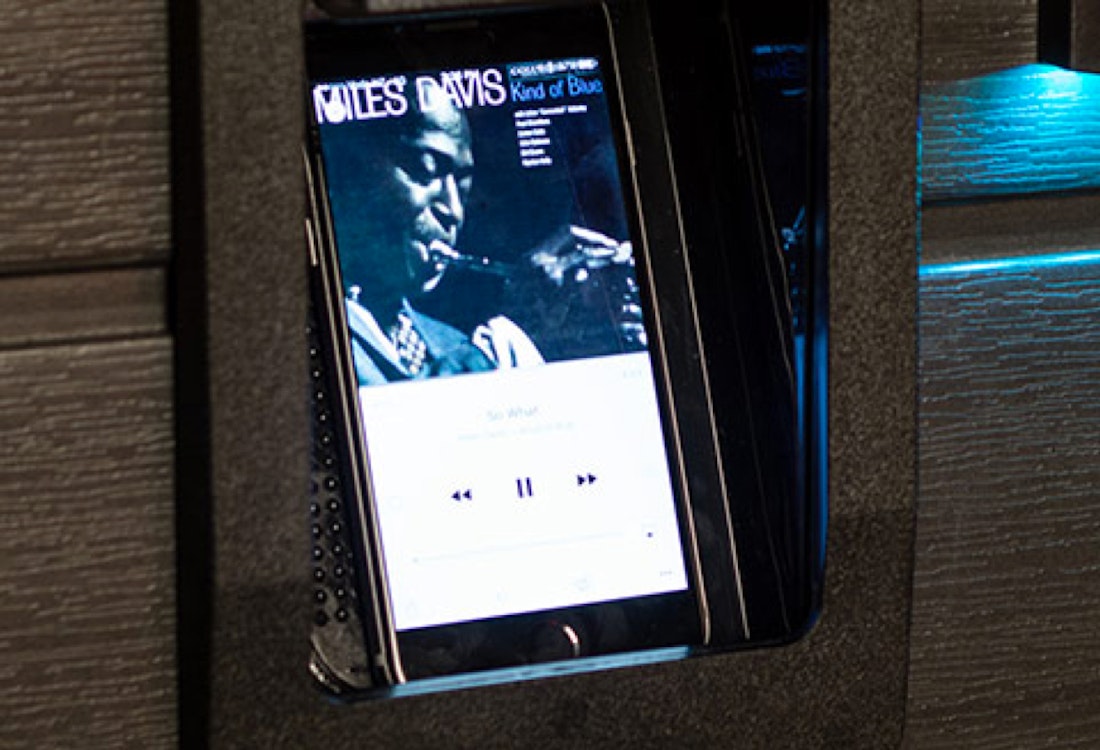 SV SmartStream™ sound system with WiFi (Optional)
SmartStream™ is an all-in-one, high-definition sound system with bluetooth connectivity so you can stream music or audio direct to your spa from your favourite apps. Auxiliary audio input sockets are also provided for connection to other audio-visual sources. The SmartStream™ also features a built-in WiFi module for remote access control of your spa via the SpaNET™ SpaLink™ smart device app available for both Apple iOS and Android devices.
Colours to Suit Your Home
Configure your item. Check out the colour options or use our augmented reality platform to view this product virtually at your home.
View in home
Open the camera app on your phone or tablet and scan this code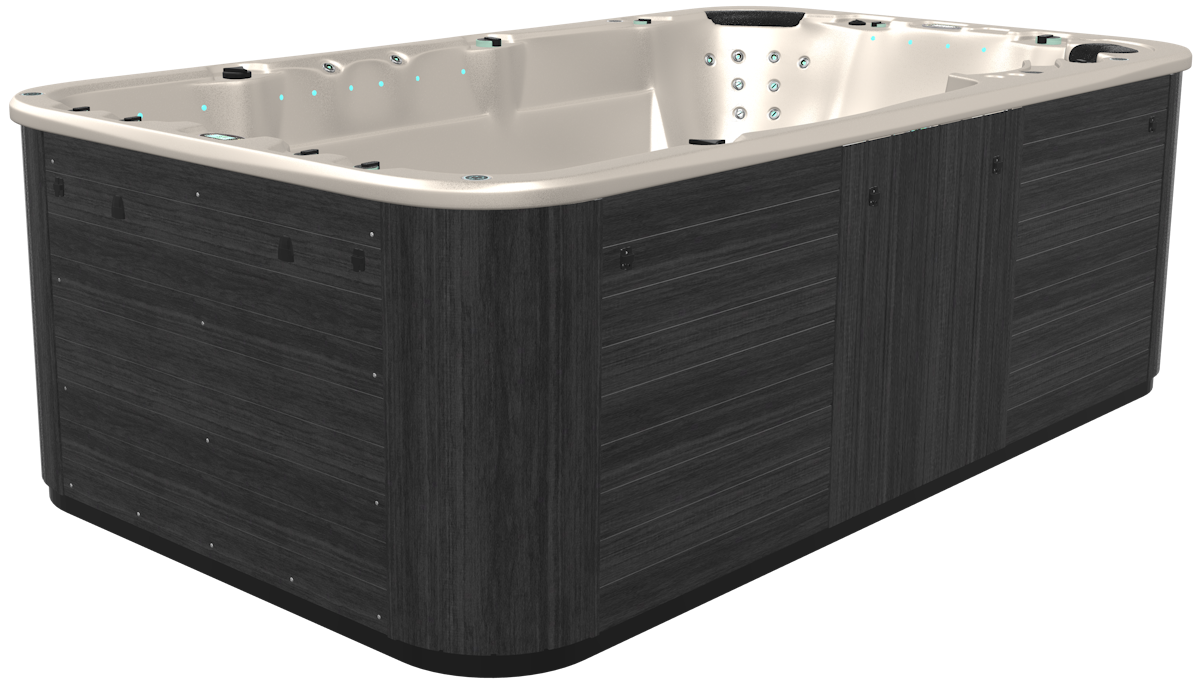 *Disclaimer: The 3D and AR models may show additional extras. Actual colours may differ from renders.
Compare models
The Aquagym™ comes in four variations. Each model has exactly the same seating layout and features. However, the swim resistance zone has additional jets in the Pro, Pro+ and Extreme.
Note: The electrical requirements for each model are: Plunge 15amp, Pro and Pro+ 32amp, and Extreme 45amp.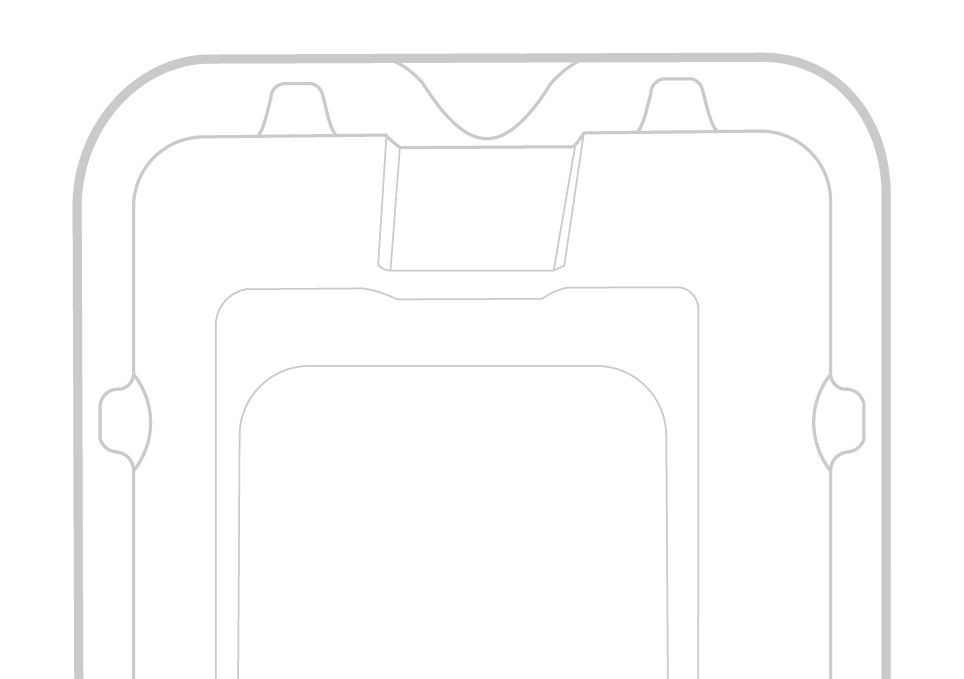 Aquagym Plunge™
The Aquagym Plunge™ is perfect for family fun and ideally suited for standing fitness and aquasize for those who want to keep fit or recover. If you want to swim, the Pro, Pro+ or Extreme could be better suited for you, depending on your swimming ability.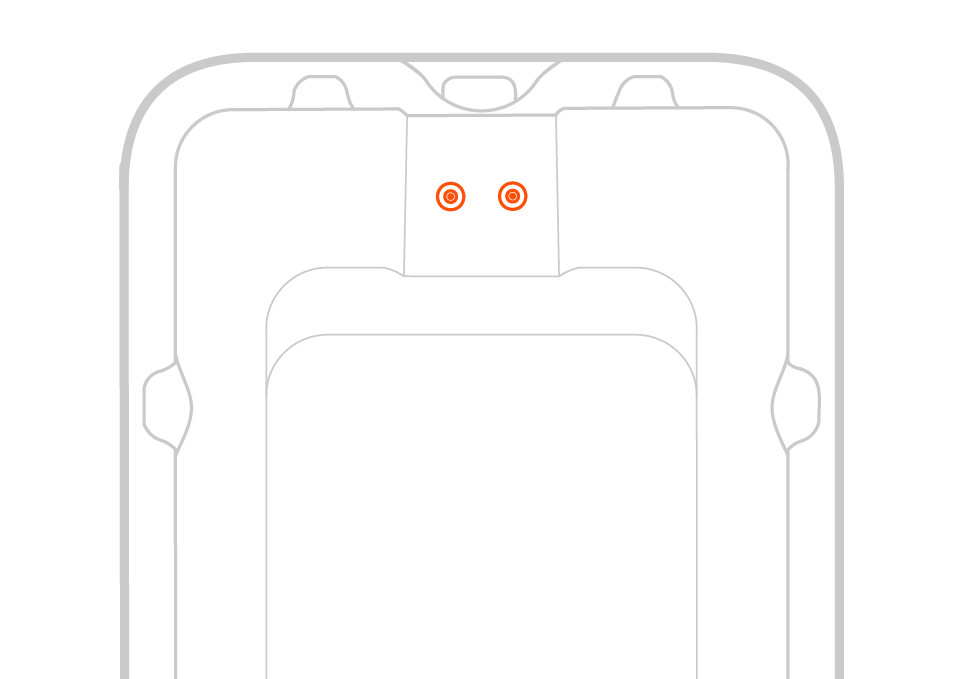 Aquagym Pro™
The Aquagym Pro™ is a step up from the Plunge with the added resistance of two powerful 150mm swim jets creating a current strong enough to swim, walk or jog against. This model is ideal for up to intermediate level swimming. More advanced swimmers may want to go for the Pro+ or Extreme models.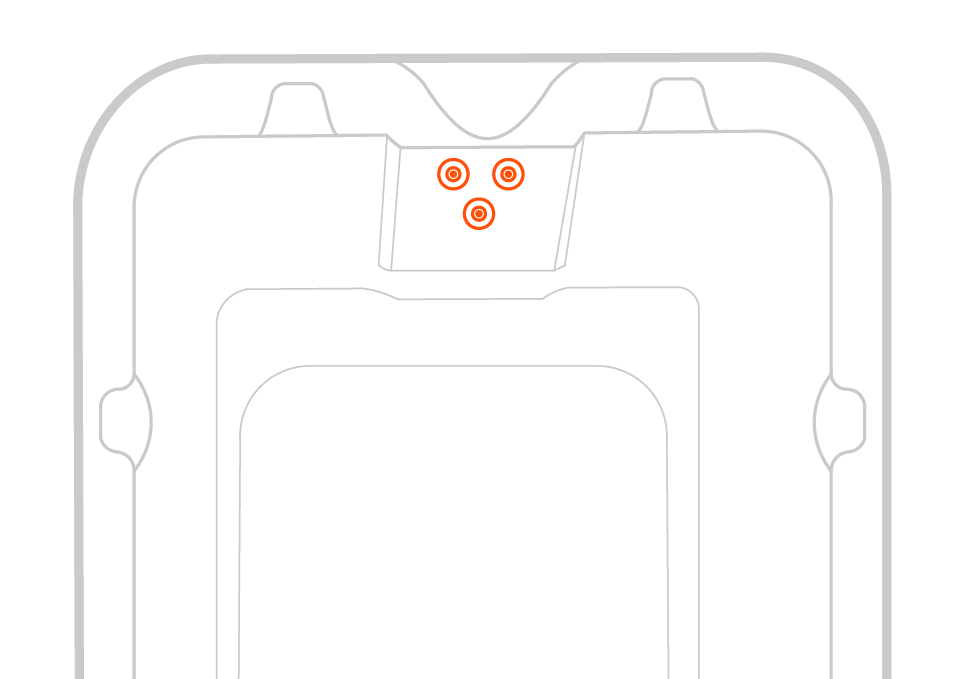 Aquagym Pro Plus™
Powered by three pumps, the Pro+ adds another level of resistance to your workout with three 150mm swim jets to step up your training. This model is perfect for every swimmer from beginner up to advanced as well as water joggers and those using aquatic fitness.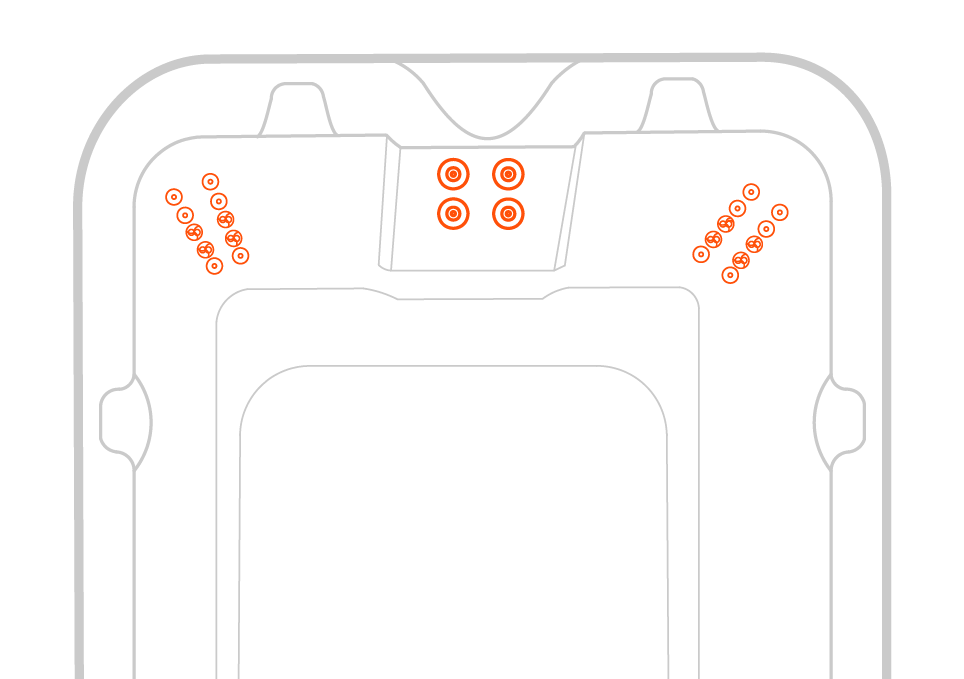 Aquagym Extreme™
The most powerful of the Aquagym™ models, the Extreme adds some serious resistance to your swim training regime with four swim jets for advanced fitness training.
Why Choose an Avanté Upgrade
Upgrade to the Aquagym™ Swim Spa Avanté and take your spa experience to the next level with a range of features designed for added comfort and superior luxury. The Avanté model brings together a collection of Vortex™ Spas' most popular upgrades which, when purchased together, offers significant savings.
Aquagym™ Swim Spa Standard

Aquagym™ Swim Spa Avanté

60-day money-back guarantee

If not 100% satisfied with your purchase, pay the return and we'll give your money back. Terms and conditions apply.

10-year Vortex Platinum Shell Warranty

You can replace many components on a spa, but not the shell. We've put our money where our mouth is. We stand behind every spa and swim spa we sell with our amazing 10 year shell warranty.

ThermoLock™ high-density locking cover

Every Vortex Spa comes with a custom fitted, high density foam locking cover.

Purezone™ ozone automatic water clarifier

The Water Clarifier uses ozone technology to oxidize and remove micro organics and metals that are smaller than 5 microns resulting in the clearest water available.

Hydroglow™ LED flood light

This powerful LED flood light does the heavy lifting to illuminate your spa at night.

Premium SpaNet™ controller

This gives you total control from either inside or outside the spa. Turn your lights on/off, change colour and colour modes to fit your mood. Adjust the temperature to your desired comfort levels. Turn the jets or the air bubbles on/off to get the massage you desire.

ThermoLock™ dual layer Insulation

This dual layer insulation system ensures that not only the water in the spa is insulated, but also the water in the pipework. This option adds a higher level of heat retention than Vortex™ Spas' standard Thermolock™ Perimeter insulation.

—

Purezone™ UV-C automatic water purifier

The UV-C technology found in the Purezone™ system is not new. In fact you will find it purifying drinking water and public swimming pools all around the world. However, Vortex Spas™ have pioneered it's use in spa pools. UV sterilization kills 99.9% of water borne viruses and bacteria, including the hard to reach Giardia and Cryptosporidium viruses.

—

Hydroflow™ stainless steel jets

Hydroflow jets use bearing-less technology to make them the most advanced spa jet on the market.

—

Hydroglow™ backlit jets and topside controls

Chromotherapy uses colours to create an environment focused on health and harmony. Hydroglow™ backlit jets and topside control lighting provide an adjustable and variable Chromotherapy experience.

—

Hydroglow™ perimeter and cabinet lighting

The additional lighting to the water edge and functional outside lighting are included with the perimeter and cabinet lighting package. All lighting is customisable to suit your mood.

—

Hydroglow™ illuminated drink holders

Backlit drink holders are functional and beautiful. Illuminated drinks bring a special feel to night-time spas.

—

Hydroglow™ backlit laminar jets

They offer another level of aesthetic beauty. Working independently from the hydrotherapy jets they turn your spa into the perfect garden water feature.

—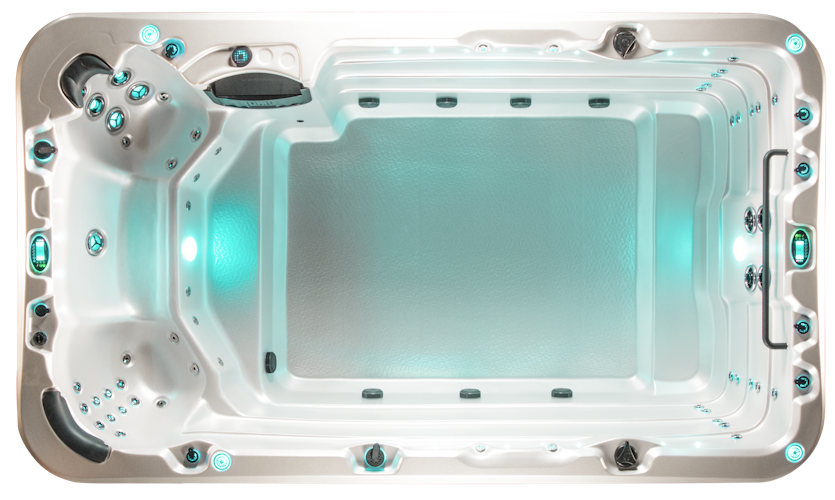 3.98 m
2.31 m
| | Plunge | Pro | Pro Plus | Extreme |
| --- | --- | --- | --- | --- |
| Dry weight | 1000 kg | 1020 kg | 1070 kg | 1120 kg |
| Filled weight (including cover) | 6735 kg | 6755 kg | 6805 kg | 6855 kg |
| Lift weight | 1450 kg | 1450 kg | 1450 kg | 1450 kg |
| Intuitive spa controller | SV2 | SV3 | SV3 | SV4 |
| Programmable circulation pump | 1 | 1 | 1 | 1 |
| Jet pumps | 1 | 2 | 3 | 4 |
| Variable speed airblower | 1 | 1 | 1 | 1 |
| Variable output heater | 3kW | 6kW | 6kW | 6kW |
| Electrical requirements | 15 amps | 32 amps | 32 amps | 40 amps |
| Water capacity | 5700 litres | 5700 litres | 5700 litres | 5700 litres |
Jet Layout
The Aquagym™ swim spa features a range of hydrotherapy jets for a relaxing massage and fitness training.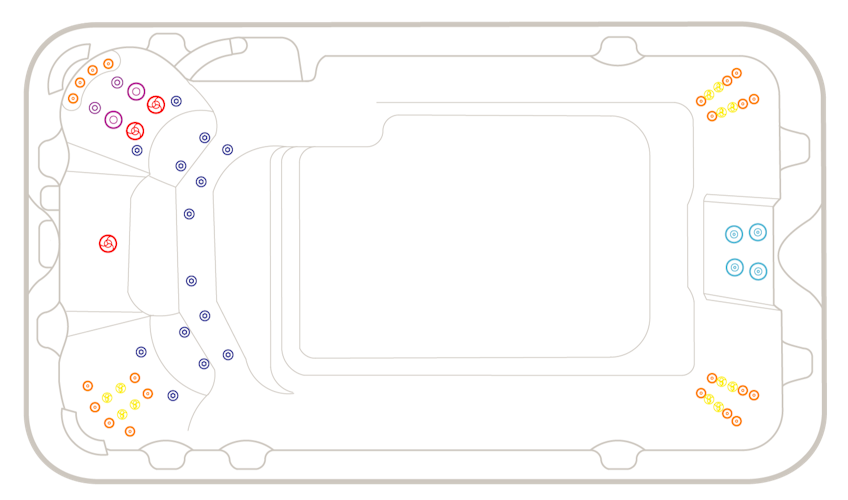 Standard Jets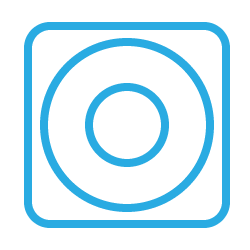 2 x 150mm Swim Jets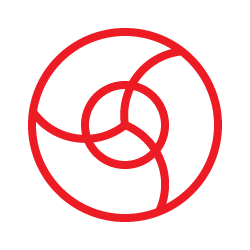 3 x 127mm Single Spinning Jets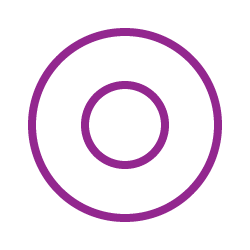 2 x 127mm Directional Jets

2 x 75mm Directional Jets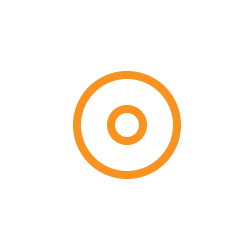 10 x 50mm Directional Jets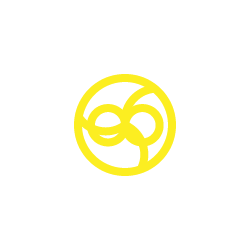 4 x 50mm Twin Spinning Jets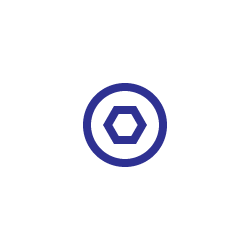 14 x 40mm Air Jets
Aquagym™
Aquagym™ Extreme™ model shown.
Jet Types
Available jet types for this model.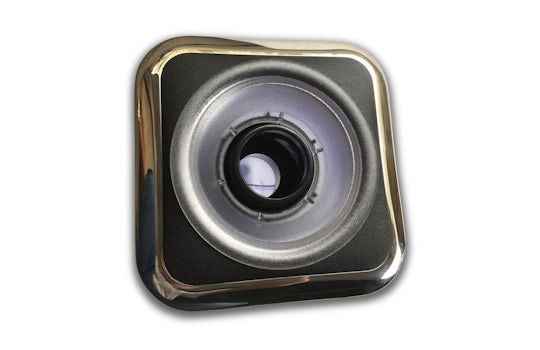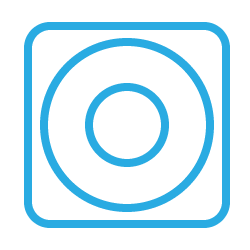 150mm Swim Jet
The 150mm swim jets create a current strong enough to swim against. You can even personalise your work out by adjusting the pressure on each jet individually.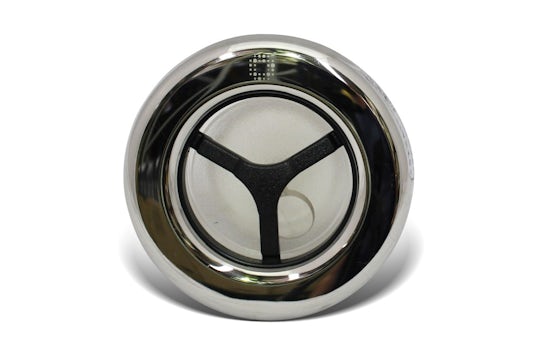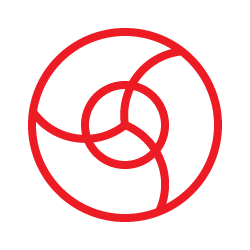 127mm Single Spinning Jet
This large single spinner gives a rotating massage effect similar to a masseuse using their thumb in a kneading fashion. They provide a very effective back massage.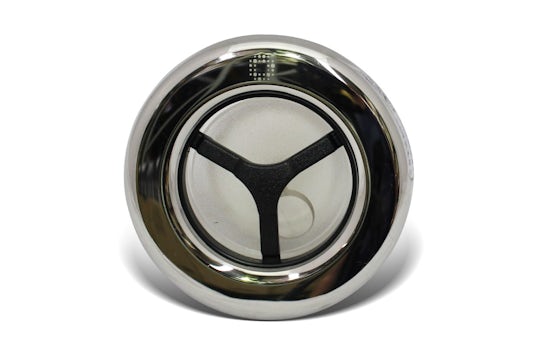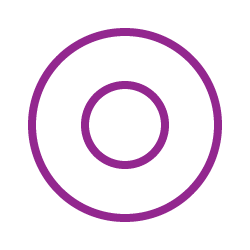 127mm Directional Jet
The 127mm directional jets provide an intense, pressure point massage. These are particularly effective at treating knotted muscles in the back.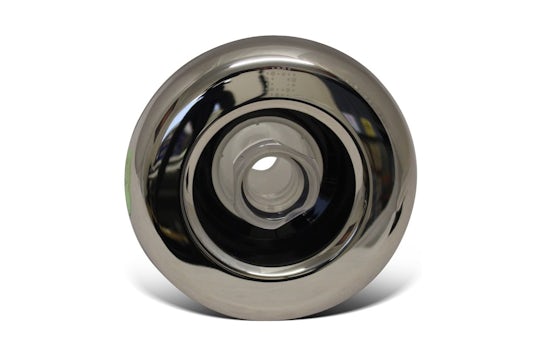 75mm Directional Jet
This style of directional jets gives a targeted but less intense pressure point massage. It's very effective for a more prolonged treatment of tired muscles.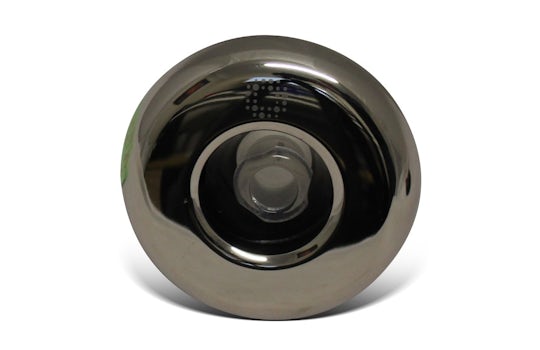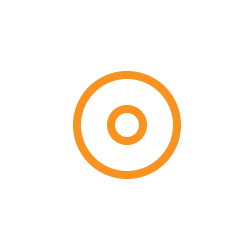 50mm Directional Jet
These jets are usually used in banks of 8 or more jets and are often coupled with 50mm twin spinners to give a shiatsu style pressure point massage therapy.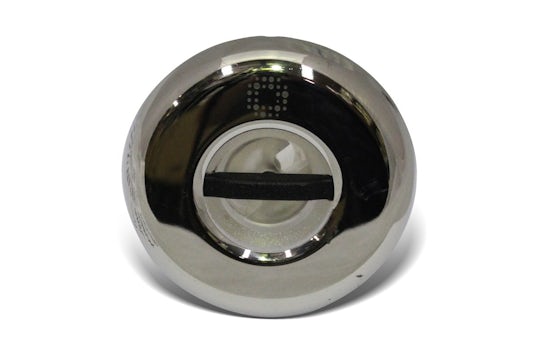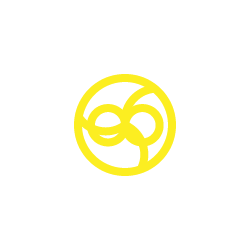 50mm Twin Spinning Jet
The 50mm twin spinner offers a pulsating massage effect ideally suited for neck and shoulder therapy or as part of a shiatsu style massages treatment when teamed with 50mm directional jets.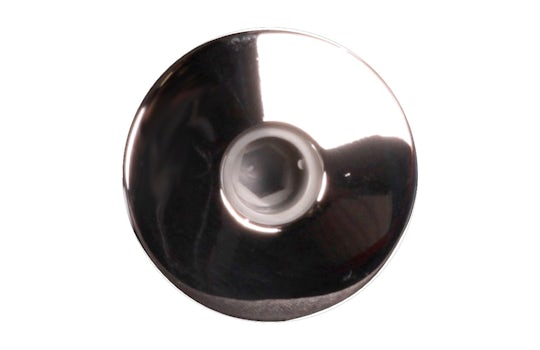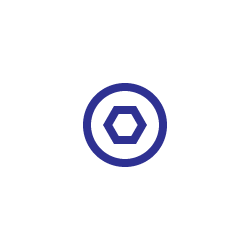 40mm Air Jet
As the name implies, the 40mm air jets emit an air stream as opposed to a water stream. These are almost always used under the legs and buttocks to provide a relaxing soft tissue massage treatment.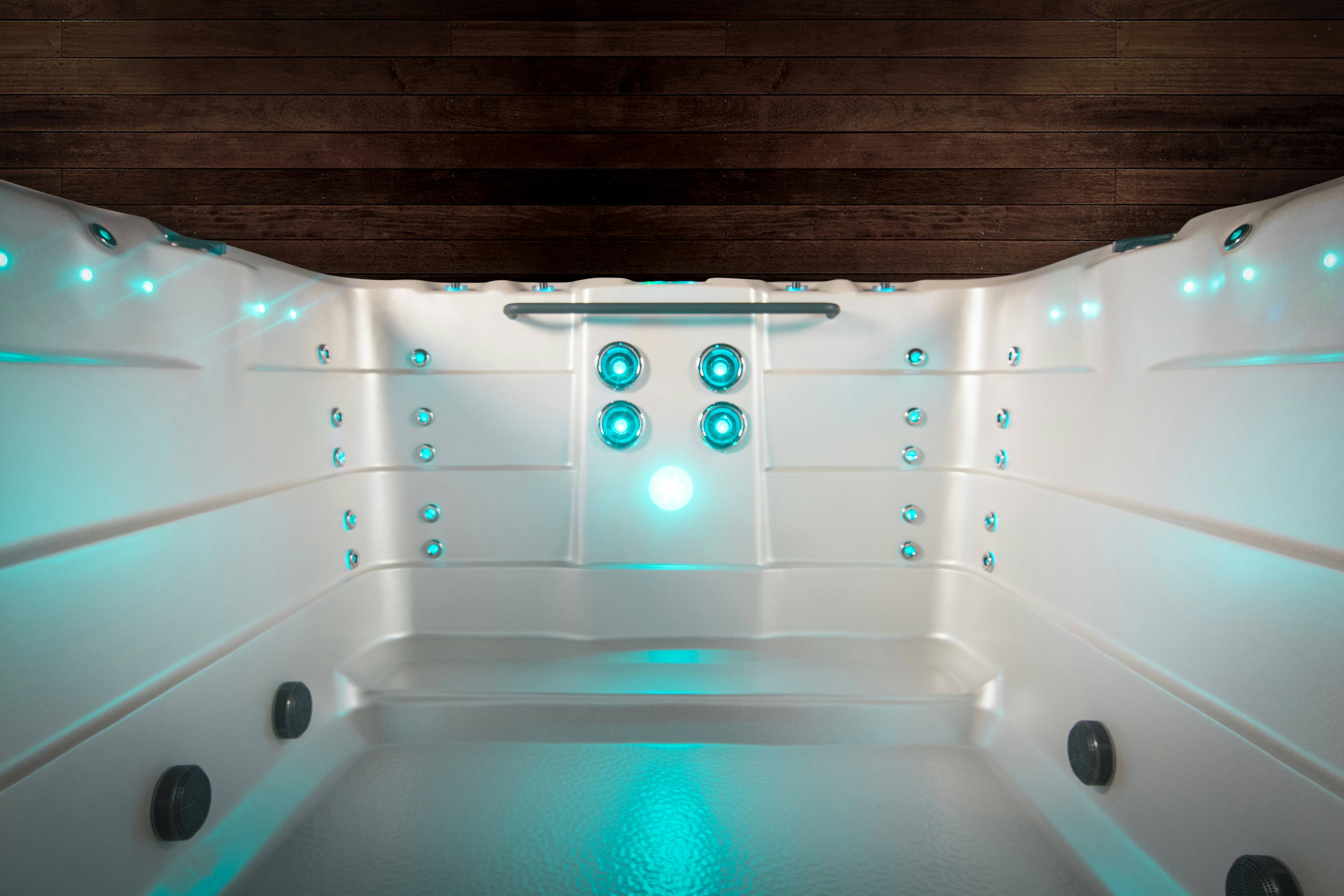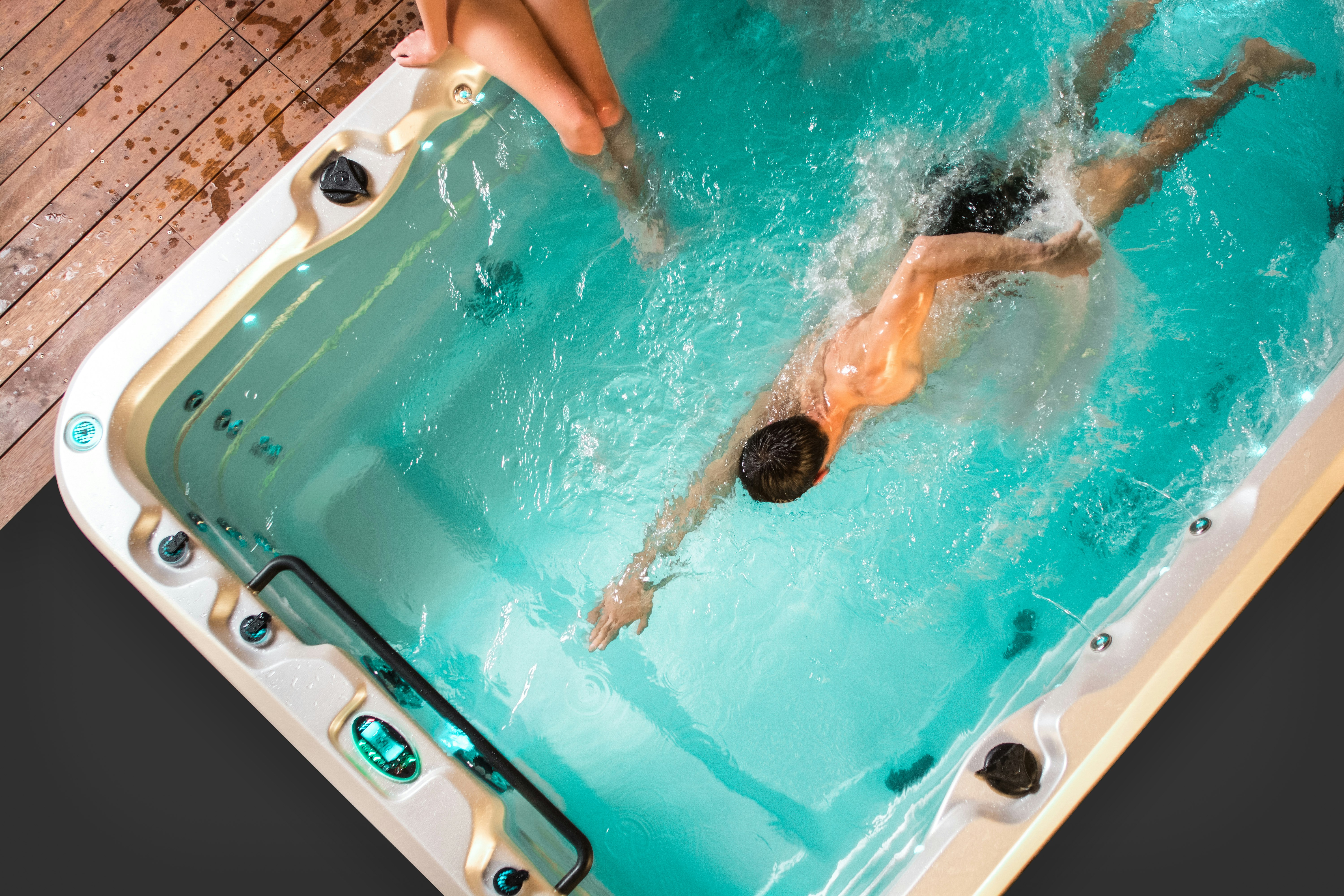 Warranties
The Vortex Spas™ range of spas is covered by comprehensive warranty agreements providing peace of mind when you purchase Vortex Spas™.
Download Warranty
Lifetime Warranty
Vortex Permaframe™ is guaranteed for life against a loss of structural integrity leading to the spa being inoperable.
10 Year Non Pro rata Structural Warranty
All Vortex Spas™ are offered with a 10 year 'non pro-rata' shell structure warranty. This means that if the spa's shell cracks resulting in water loss, for a period of 10 years, the spas shell shall be replaced.
5 Year Non Pro rata Acrylic surface warranty
All Vortex Spas™ are offered with a 5 year 'non pro-rata' acrylic surface warranty. This means that if the acrylic surface blisters resulting in water loss for a period of 5 years, the spa's shell shall be replaced.
5 Year Plumbing, Heater & Jet Warranty
The plumbing system of all Vortex Spas™ is warranted against leaking for 5 years. The heater and jets of all Vortex Spas™ are warranted against defects for a period of 5 years.
2 Year Pump & Equipment Warranty
The circulation pump, jet pump(s) and electronic control system of all Vortex Spas™ are warranted against defects for 2 years. *Please consult your local store for complete warranty details.
Similar Swim Spas
You may want to check out these similar swim spas to compare features and find the right spa for you and your family.
| | Vortex Aquagym™ | Vortex Aqualounge™ | Vortex Hydrozone™ |
| --- | --- | --- | --- |
| Seating | 4 | 4 | 5 to 7 |
| Dimensions | 3.98 x 2.31 x 1.2m | 3.98 x 2.31 x 1.2m | 5.90 x 2.30 x 1.3/1.5m |
| Volume | 5700 ltr | 4717 ltr | 1,259 / 5,425 ltr |
| Jets | Up to 59 | Up to 81 | Up to 68 |
| Weight (Full) | 6,855 kg | 5,772 kg | 8123 to 8940 kg |
| Price | | | |
| | | Find out more | Find out more |